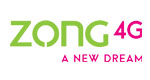 200 GB Monthly Zong Device Offer - zong internet packages
PKR 10000
Taxes are Included
Only the Zong Dongle or MiFi devices are included in the Mobile Broadband Packages from Zong. You can't use these packages with regular SIM cards, so you'll need to buy a new Zong device to get them from the Zong center. This package, which comes with a data cap of 200GB per month, is named for the number of gigabytes it contains.
The following are the details for Zong's 4G devices.
4G wifi on the Go (Huawei).
There is no need to install software because it is plug-and-play.
Can connect up to ten wifi devices at the same time.